Fiddle & Mandolin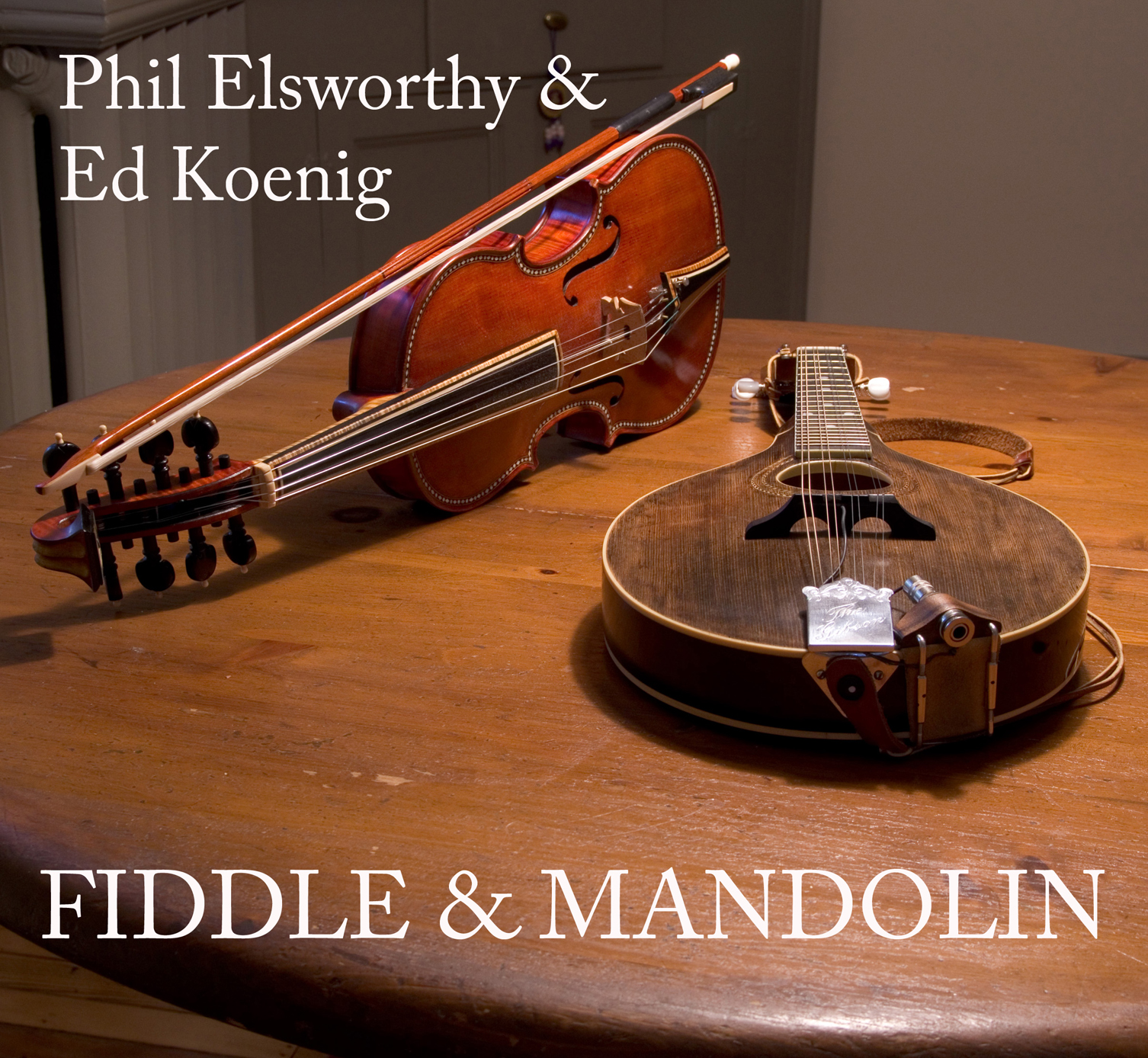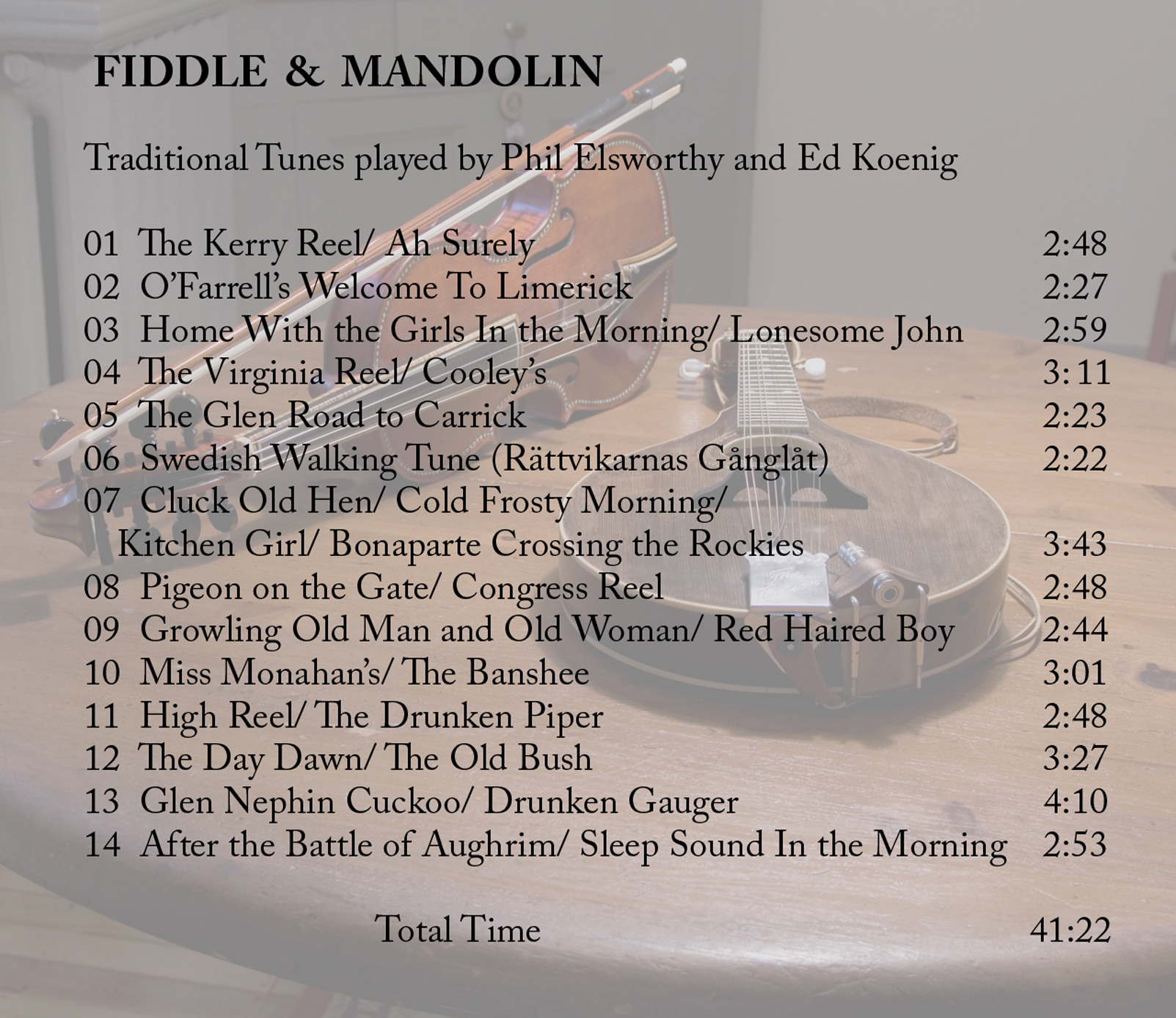 Traditional Tunes played by Phil Elsworthy and Ed Koenig
Players and Instruments:
This Recording is a collection of traditional tunes recorded at Ed's home in July 2011. Phil and Ed have played traditional tunes together fairly regularly -mainly Celtic music – for the last two decades. Their first shared recording was made about 17 years ago – with a three-piece group called Banish Misfortune. They have been co-members of a local (Waterloo, Ontario, Canada) Ceili band for over a decade, and have traveled together to countless music sessions.
The title of the CD, "FIDDLE & MANDOLIN" needs but little explanation. Phil plays fiddle on this recording, and Ed plays mandolin. The original plan was to include several other instruments that each plays, but in short order the idea of using just the two instruments throughout took shape. Phil took the photos for the CD. One that he sent to Ed via email was labeled "Fiddle and Mandolin" – the one on the front cover of the CD.
That's Phil's fiddle on the left. He made it, and modeled it after baroque instruments, and particularly after the Hardanger Fiddle still played as part of Scandinavian traditions today. It has the usual four fiddle strings, but also an additional four that resonate sympathetically when the others are played (sort of like a sitar). Phil's bow is likewise built in the baroque style. Ed's mandolin is on the right. It's a 1913 Gibson A2 that he has owned for about six years.
The recording is self-produced (Ed took the lead on the technical setup – both players shared in practical and artistic decisions). It is deliberately under-produced. It is as much in the genre of musicological field recording as it is a popular music production. No reverb was used, so that the unique resonance of the two instruments could be more easily distinguished.
The Tunes:
All the tunes can be considered "traditional" in that it is no longer known who composed them. They come mostly from the British Isles. They are mainly from Ireland, but there are a few from Scotland and the Shetland Islands. The rest are from America, except for one from central Sweden that Phil learned from a Canadian friend who picked it up in the 1970s from Swedish musicians he met on a ferry heading for the Shetland Islands. Some of the American tunes can be referred to as Appalachian and others have been distributed more widely throughout Canada and the United States even in fairly early times.
The tune selection reflects the current interests of the two players as well as the paths they each have taken in their explorations of traditional tunes. Phil has been especially focused on music from western Ireland while Ed maintains a fondness for the old American material that he began learning before drifting into Celtic music.
In this recording, Phil and Ed carve out a slice of traditional fiddle tune based music and give it their own flavour, in hopes that some of the pleasure they have gained in doing so can be shared with others.
Contact information:
Phil Elsworthy – philippe.elsworthy@gmail.com
Ed Koenig – ed.koenig@sympatico.ca
CDs replication and graphic setup by Jose Goncalvas
The Crooked Path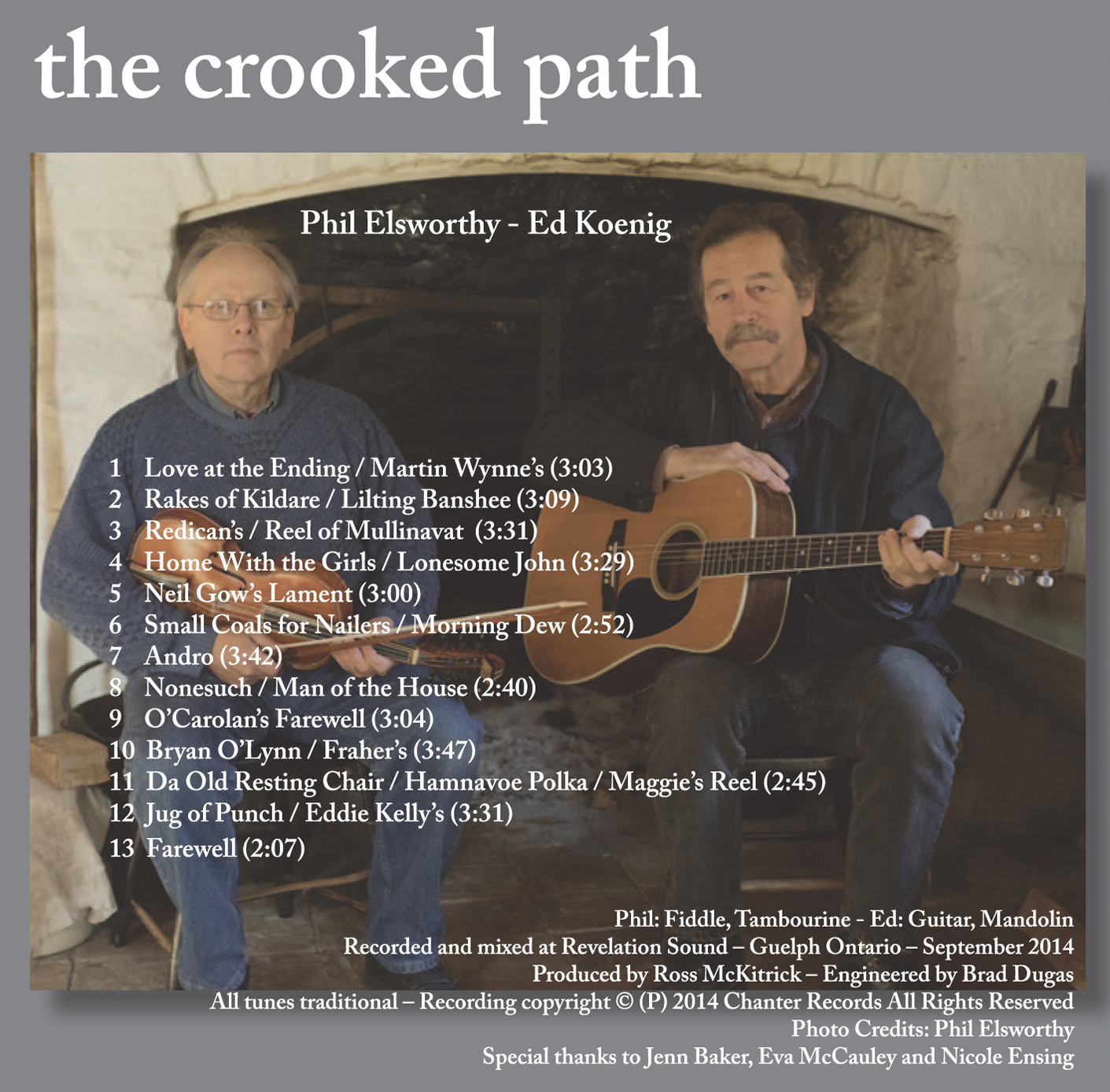 The Crooked Path CD is available from Chanter Records and as digital downloads from links mentioned on their website, or from Ed and Phil personally wherever we may cross paths.
The Fiddle and Mandolin CD can be obtained by contacting Phil or Ed.
Both CDs are for sale at the Joseph Schneider Haus Museum Gift Shop in Kitchener.